The Time Machine (Spectrum English Version)
THE TIME MACHINE

Sequentia Soft, Fran Kapilla
Final Version 1.1
(english & spanish version)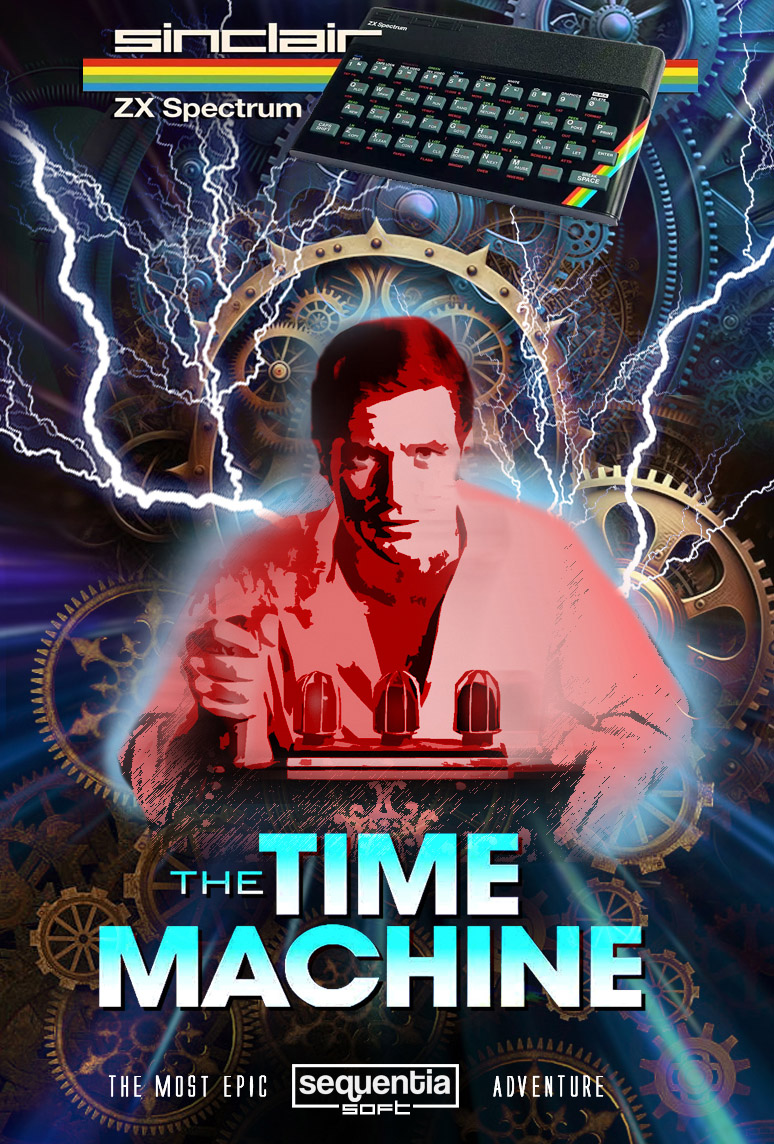 versión final 1.1 (5 sep 2023)
v 1.1 (20 ago 2023)
v 0.9.7 (12 mar 2022)
v 0.9.6b (15 jan 2022)
v 0.9.6 (14 jan 2022)
v 0.9.5 (13 jan 2022)
v 0.9.3 (11 jan 2022)
v 0.9.2 (25 dec 2021)
v 0.9 (22 dec 2021)
v 0.8 (19 Dec 2021)
This game is a options adventure, ¿a visual novel?. You can play by selecting options, as if it were a game-book. It is inspired by H.G. Wells' 1895 book The Time Machine and the graphics have been redrawn from frames from George Pal's classic 1960 film.
The rhythm of the game is very different from what is used in the arcades or more typical retro games of the Spectrum. It is somewhat close to conversational adventures (interactive fiction) but it really is a concept more in line with the new times since you can advance by choosing options (it can even be played on mobile devices with comfort because you only need three keys), you have an inventory with objects easy to use and also, if you get killed, you can continue playing in the phase you are in without having to start from the beginning.
CONTROLS:
Q - up
A - down
ENTER - select
I discovered this book and at the same time the movie thanks to my father, who loved this story. I have dedicated the game to our kitten Romy that although she never knows of the existence of this game, for me she is almost like a person (whoever has animals understands me).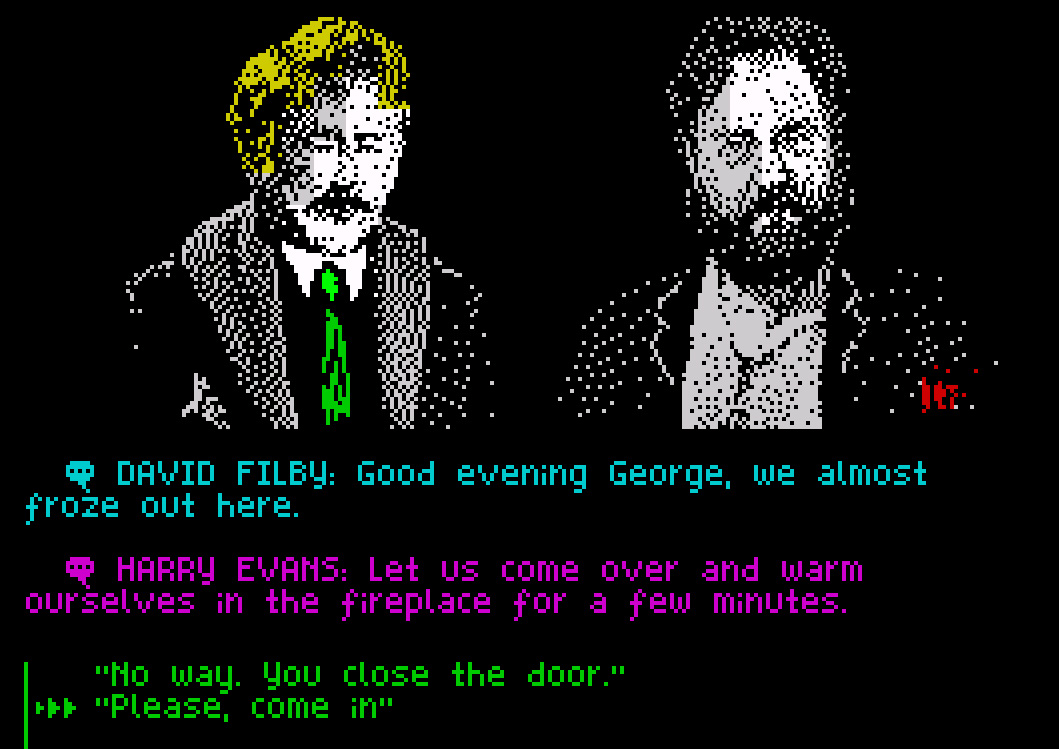 SIX LEVELS
At the end of each block a code appears, you must put it later, at the beginning of the next level to be able to play.
Film, book, adaptation.
This adaptation is quite based on the original plot, however, some things I have synthesized (for example: when the two friends come to see you in phase 1, in the book it is supposed to be a meeting of six scientists, but for space from memory, I have simplified some things), and others, like the ending, I have changed a little, to make it more original, not to be repetitive, to have another enjoyment attached to the original Wells plot. Of course, I want to recommend that you read the book and also that you watch the 1960 film, you can do it even before playing, so you can enjoy every step of the game even more without a script problem since in this version, this personal adaptation that I have made, there are differences especially in the conclusion.

Documentation
To make the game, I have had to document a lot about aspects of each era, 1899, 1902, 1918, 1940, etc. From the type of energy batteries that existed, the weapons, the vehicles, the fashions and even the type of hair or mustaches ... all this has been necessary to be able to create the puzzles, the plots and the graphics. It was fun.


The Time Machine and John Titor
I have included a detail related to John Titor, I do not want to tell it but I leave it for the player to discover for himself. I just want to comment by way of making, that in addition to this secret detail ... I have relied on the operation of Titor's machine to explain the Wells mechanism but with some steampunk elements from the 19th century. I thought about putting other time travelers into the plot (a Delorean ...) but I was running out of memory and it didn't occur to me to give it the serious touch that the plot needs. What I did include in the plot, in phase 1, is a certain book ... the first one that deals with time travel, before Wells, whom I admire but the dates must be taken into account. That book "The Anachronópete" is less well known simply because it is not English.

Finally: donations are appreciated to anyone who wants to contribute something. It is an little incentive for the author.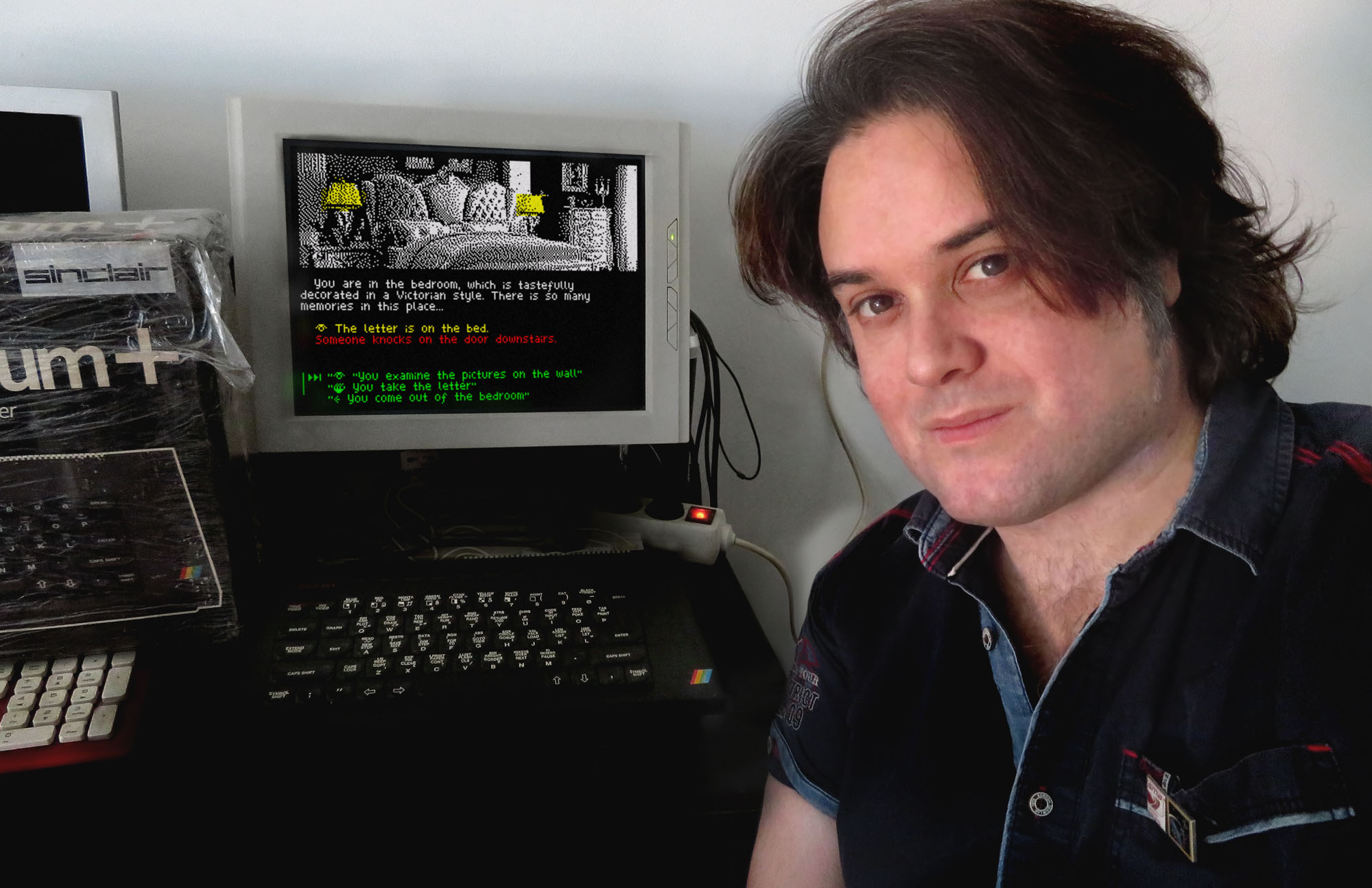 Thanks to:
Aryekaix (main tester), RamonMax (rhythm tips), Ruber Eaglenest (inventory tips), Jari Komppa (Mucho engine), Juanjo Muñoz y Briefer (English translation), Sergio The Pope (creation of Mucho McChainer, who will use in future games) and Spirit003 and Jade for extra testing.
Purchase
In order to download this game you must purchase it at or above the minimum price of $3 USD. You will get access to the following files:
trailerbanner_eng.mp4
44 MB
The Time Machine final version english.zip
2 MB
Comments
Log in with itch.io to leave a comment.
Final version 1.1 ready! Thanks!
Some wrong words have been used, but most noticable is that "P" is missing from "Power" when you are in the Time Machine in part 1. In part 2 it should be "The cell is empty" when David is not there, and not "Battery is empty" (and maybe it would be better with no picture, instead of the picture where he is still there ?). In part 2 the game freezes when selecting "You stand in front of the guns" and when your friend is killed, and you go back to the policestation, it is possible to go down and try to rescue him again. He will be alive again, you will get new time, and if you run between different streets several times, then the timer will mess up and you will get 255 seconds.
Thank you very much!! we are going to repair that puzzle and improve the language. You already know that due to the rush, the game has not been tested, but I observe that the errors are few and easily repaired. thanks!!
Is this the correct answer that is not working, or will I die by selecting this ?? Is part 2 possible to pass through now, as it is, or do I have to wait for your update ? Also in the beginning of part 1 this text would be more correct:
"A letter is on the bed"
"You go out of the bedroom"
Try to play again in phase 2 to avoid that error, it is possible to go to phase 3. Maybe it is possible to pass despite the failure of 255 seconds. I have to find a time to fix everything. Thank you very much for playing and for your suggestions, I am writing them!
Part 2:
It is possible to get 246 percent pressure in the Time Machine by pulling the lower pulley.
If you die and would like to retry, this is not possible, because you start in the inventory, and "Close inventory" is missing.
Part 1:
"You say he is working on an experiment" should be "You say you........"
Part 2:
"You stay away from the vehicles" should be "You step......."
If you speak to David just 1 time, then "Questions about the cell" will not be there, but if you then go to the garage, you will be able to select "You light the floor with the lamp" (that you have not got yet) and will get the message "The ground is dark, nothing can be seen" and get game over.
Part 3:
Same problem as in part 2 when restarting after dying.
You get info that "At dusk the moon shines" is the password. In the menu you can select this x2 times, but both answers will be wrong - you have to answer "At dusk shines the moon"
At some places "usas la pistola" and "pisas el acelerador" is not translated.
Is level 3 possible to pass..??
When going back to Harry with the gun, after the truck has blown up, you can not open the inventory or speak to anyone, you can only select to go north. And you are always shot when trying to use the Time Machine... A bug ??
What to do, to complete this level, if it is possible to pass..???
Can you confirm it is possible to complete level 3 ??
I just finished an UPDATE >> 0.9.3
I think I have fixed everything you tell me. There may be one more error (even in grammar).
I have write your name as thanks within the game (intro) and here, in the description of this page also. Tell me if you want me this nick Spirit003 or another name. Thanks! And any error you see tell me because you help me a lot. I would like to make the game as good as possible in the English version. I'm sure there will be more updates. :)